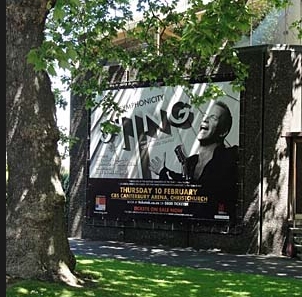 Publicity stunt or audacious grand theft?
A fan of musician Sting has nabbed a pretty impressive (albeit premature) souvenier of the superstar's forthcoming Christchurch concert with the New Zealand Symphony Orchestra on February 10 at CBS Canterbury Arena by snipping the tie-ropes of a 4 metre by 3 metre canvas billboard advertisement for the concert in the middle of the night, which was attached to the outside wall of the Christchurch Town Hall until last week, and making off undetected with their prized contraband.
Manager of the Isaac Theatre Royal, Neil Cox, acting as the Christchurch-based representative of concert promoter Live Nation, said it had taken the "sting" out of the advertising campaign.
"If anyone knows of its whereabouts, or even better can return it sometime this week to us in one piece so it can be put back up we are prepared to reward them with two free tickets to the concert plus they'll get the billboard back afterwards to keep as an official souvenier for all their efforts. We'd just like it back up for the last two weeks before the show."
He urges the person who liberated the billboard to look at it as "loaning it back" for two weeks.
Cox says there will be no penalties or questions asked.
"If whoever has it can return it, leaving just their mobile number, to the box office of the Isaac Theatre Royal at 145 Gloucester Street in Christchurch CBD during office hours, the promoters will be verY happy to get it back and hopefully in return the opportunist Sting fan will be equally happy to receive their reward."
No Stings attached.
© The Press by Vicki Anderson