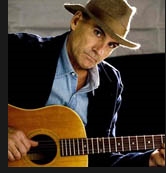 On April 12 Sting will join host James Taylor, Barbara Cook, Steve Martin and Bette Midler in a gala event at New York's Carnegie Hall. The event honours 12 decades of extraordinary music and events at the famous venue.
From
JamesTaylor.com
:
Carnegie Hall launches its 120th anniversary year celebration on Tuesday, April 12 at 7 pm with a one-night-only gala event hosted by renowned singer/songwriter James Taylor in Stern Auditorium/Perelman Stage. This festive evening pays tribute to Carnegie Hall's illustrious history, highlighting many of the extraordinary musical and cultural events that have taken place on the Hall's legendary stages over the past twelve decades. Featured special guests include: Barbara Cook, Steve Martin, Bette Midler, Sting, and members of the Tanglewood Festival Chorus among others. This concert is one of four Carnegie Hall Perspectives performances presented by Taylor this spring.
The James Taylor gala event - benefiting Carnegie Hall's artistic and education programs - is chaired by Clarissa and Edgar Bronfman, Jr. Honorary chair for the gala is Caroline Kennedy. Honorary Artist Committee members for the evening include Carnegie Hall trustees Emanuel Ax, Yo-Yo Ma, and Audra McDonald, as well as Calista Flockhart, Harrison Ford, Jay-Z, Kelly Preston, Tavis Smiley, Regina Spektor, and John Travolta. Additional gala leaders include: Vice-Chairs Emily Blavatnik, Tory Burch, Lyor Cohen, David Foster, Leslie and Tom Maheras, Aviv Nevo, and Anonymous. Bank of America is the James Taylor Gala Corporate Sponsor and Proud Season Sponsor of Carnegie Hall.
Gala Benefit tickets priced at $2,500 and $5,000 include premier concert seating and an exclusive after-party dinner at The Museum of Modern Art. Gala benefit tickets priced at $1,000 include the concert and a pre-concert cocktail reception at 6:00 p.m. in Carnegie Hall's Rohatyn Room. All gala benefit tickets are available online at
carnegiehall.org/jamestaylorgala
or by calling 212-903-9679. A limited number of premium tickets, priced at $200, $300, and $500, will be available only at the Carnegie Hall Box Office (57th Street and Seventh Avenue) or by calling CarnegieCharge at 212-247-7800, beginning this Friday, January 7. Both Gala Benefit and premium tickets include a tax-deductible donation to Carnegie Hall.